Dating in London – The Complete Guide
Being one of the most ethnically diverse cities in the world, it is very likely that one seeking a partner in London would find someone just their type!
Whilst Dating in London, there are no set rules. Call it stereotyping, but the people from the UK, in general, are very polite and you would find them very comfortable to approach. But if you didn't know better, you wouldn't know if someone is interested or just being polite.
London is not the kind of city to be single in, but there are factors relating to the dating scene here that could cause you to use the breaks. Bare's dating guide will help you get a better understanding of how to make your dating experience fun and exciting despite the exhausting city lifestyle!
Why is London so different?
Londoners are busy people, often stressed. Here you will find people already in a long term, committed relationship with their profession. After all, it is one of the world's most competitive and expensive to reside in. Who would practically have time for dating when you're busy paying your bills? 
It would be pretty difficult to plan a proper date without clashing schedules. You might as well treat it as an appointment to book weeks before the date. This is why the majority of the citizens sign up to multiple online dating platforms in hopes to find their choice of partnership with a few swipes and clips… maybe more than a few. 
Before actually spending time meeting someone for the first time, some people would rather connect online then decide whether they are worth your time. But this shouldn't affect your approach,  there are millions like you who are seeking love in different forms. At Bare, we understand this and so we'll share some date venues that we think would make those dates you score fun and quirky!
London's Dating Hotspots
When you score a first date, the first thing you do is lookup date spots and It is always a plus if you have a couple of date spots hidden in your pocket for whatever mood your date might be feeling. To match such an expectation, we have a list of First Date Hotspots. That's right, not just any date hotspot, but First Date Hotspots. These are venues around London perfect for first dates which most people who are up for connecting, experiencing and exploring would enjoy. 
London's Quirkiest Golf courses: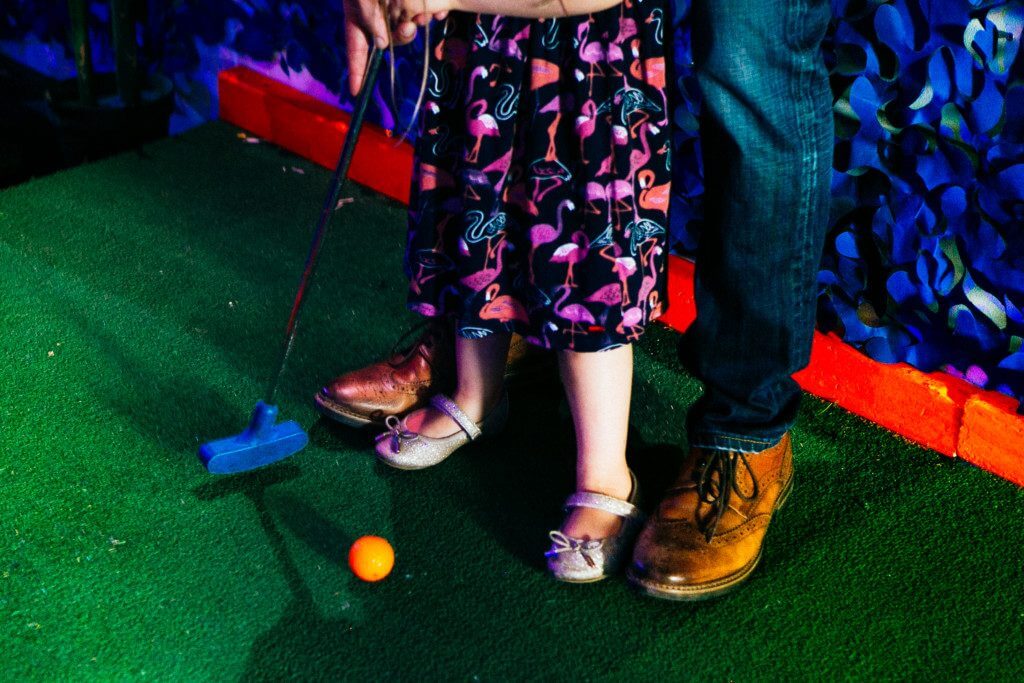 Junkyard Golf Club provides chill music, unique drinks and quirky mini-golf courses, all in a variety of themes! Prior bookings are recommended as they can get busy during evenings and weekends. The vibe you get is not too different than being in a club with dark rooms, neon lights and glow in the dark painting. 
You don't have to worry if your partner or you are going to be experiencing the game for the first time, nothing about mini-gold is particularly hard so you can concentrate on having a good time getting to know your date better. The venue also offers really unique cocktails, even having sweets in them! One round, however, does go quite fast so I'd recommend buying two.
If you enjoyed your experience at a junkyard mini-golf game, you should check out places like Plonk Crazy Golf Battersea, Puttshack Westfield and Swingers Crazy Golf
Rooftop Venues:

 
A first date with the view of a clear sky above you? Yes, please! Granted the weather gods show us some love too. Transforming into a colourful oasis for summer, Bussey Rooftop Bar situated at the top of the iconic Bussey Building offers a unique drinking and dining experience in the heart of South London giving you pleasing 360° views of the London Skyline. Definitely impressive when added to your Instagram feed! It's the millennial generation and aesthetic means a lot when setting a vibe. Similar bars showing off aesthetics are Fest and Skylight Rooftop Bar (definitely Instagram-able).
If you love the idea of Rooftop Bars but want more than to lounge with drinks and food, Roof East does Mini-sport Games such as curling, bowling, shuffle boarding, Film Clubs, Silent Disco, even Yoga! Their theme is all colours and no shame for those Instagram worthy shots your date can brag about in their feed! Delicacies served by food stalls from different countries, especially Indian Kati rolls and all vegan pan Asian cuisine! We definitely recommend this place to those looking for a playground for adults all with the price of a whopping FREE entry. A memorable first date for sure!
London Markets: 
A first date where you get to know each other better while munching on a selection of scrumptious snacks either on the go or by browsing all the exhibitions on the individual stalls all lined up for you. Portobello Road Market, West London, being the world largest antique market presents a widely spaced out area with a variety of stalls covering goodies for all ages with a view of the colourful houses lined up in Nottinghill Gate. 
South London Markets such as Brixton Market and Greenwich Market also hold a similar vibrant vibe but combined with a village themed cosy, less crowded and comfortable experience. Both these markets, span across vast areas filled with restaurants and cafes offering pretty much every cuisine imaginable alongside arts, fashion and artefacts. You could hit two birds with one stone when you visit Greenwich Market since all the excitement is situated within a World Heritage site.
North London Markets such as Camden Market is one of the central spots for all youthful things. A very colourful location, like the people that visit, the walls painted in the style of the signature Camden youth aesthetic. They have Multi-Cultural Performances, goods, and ever-changing food stalls. Most stalls serve unique fusion foods that you've probably never seen or heard of before ( e.g Korean Burritos, Masala Onion Rings etc.). No two visits would ever be the same. Situated alongside another romantic Canal, Clubs and chill spots for young millennials, Camden Market is a Bare Favourite! 
Different dating scenes and where to go
Everyone is different, and London has different scenes for different people there's guaranteed to the hundreds if not thousands of people who enjoy the same activities you do. Bare will share with you some spots we know of that your date and you would be able to share your similarities together. 
Hipsters in the east
London is Trendy. No doubt about it. There are many trendy places especially those regarded as being outside the cultural mainstream waiting to be explored by you.
Cereal Killer Cafe, despite the scary pun, will actually take you down a sweet memory lane! This cafe is Cereal bowl themed (if you couldn't already tell) giving you some sweet and milky nostalgia. A great variety of choices of cereal and quirky milkshakes to choose from, some which you won't find in supermarkets. You could combine all the available flavours with 16 different kinds of milk and giving you loads to choose from! If the sweet cereal doesn't impress your date, They have savoury selections like cornflake chicken and fruity pebble chicken accompanied with sweet chilli galaxy sauce.  
If you enjoyed your time here and want to explore similar options, Bare recommends Draughts Board Game Cafe, Peggy Porschen Cakes, Canvas Cafe and for feline lovers, Lady Dinah's Cat Emporium.
LGBTQ+ In SOHO
For our favourite month of Pride, Soho is the LGBTQ scene's HeadQuarters. There are no gay best friends that haven't been there at least a couple of times and everyone always has a blast. There are loads of Bars and Clubs for you to check out in Soho and we know a few spots that scream pride. 
G-A-Y Bar is a centre spot for all things gay no doubt. They serve amazingly cheap drinks, music you can't stop dancing to and interactive screens all laid out in 3 story rooms. One whole floor is reserved for women only! You will find all kinds of Gay there making meeting and connecting with people a very easy and comfortable experience. 
A little Bare tip, for those who love saving money, every Thursday, Friday and Saturday there will be people giving out free wristbands which will let you go into Heaven Night Club for anywhere from £1-£5 pounds and if you're lucky you might also get a FREE ENTRY wristband!
During the short walk from G-A-Y to Heaven to switch up the date mood, you must have come across the cleverly named bar 'Halfway to Heaven'. We recommend this bar to over 25's as It tends to attract a more mature crowd that love to watch some mind-blowing drag performances. Don't mistake the bar to be a chill zone, the basement here turns into a colourful club during weekends. We recommend you stop by here on your trip from Soho to Heaven.
Pride London
To top off this Bare Tips Blog post would be to not forget the UK's largest Pride March in London being held on the 6th of July. Make a difference by walking alongside those passionate about empowering the LGBTQ rights movement and the communities representing all over the world. Pride In London would be an experience you don't want to miss no matter what you identify as.
 #LoveIsLove #pride #prideinlondon #pridejubilee
To find out more about the event of the year, check out their website: https://prideinlondon.org/
Stay tuned for more Bare blogs brought to you every week!